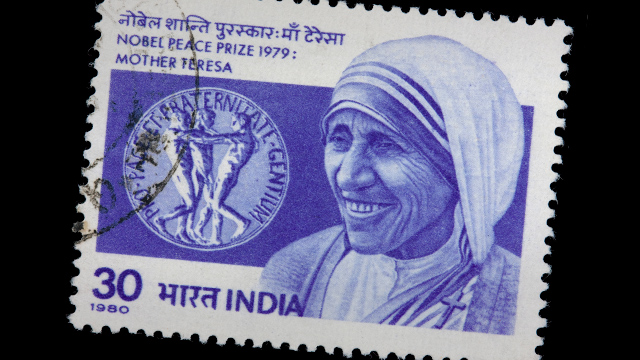 "God has created us to love and to be loved, and this is the beginning of prayer—to know that He loves me, that I have been created for greater things." ~Mother Teresa
The people who have made the greatest impact in the world are those who share love without agenda. There are really only two kinds of love: selfish love and unconditional love. Those who love unconditionally make a difference in the lives around them. Mother Teresa is one such person. She had already taken her final vows as a nun and was working as the principal of an all girls school in Calcutta when she felt called to work with "the unwanted, the unloved, the uncared for." After only six months of medical training, she dove into the city slums to work with the poorest people. Her only goal was to help others.
Mother Teresa started to make a difference in the community by organizing an open-air school and establishing a home for the dying destitute. Soon after she founded the Missionaries of Charity, an organization that began with just 12 members and eventually grew to include over 4,000 members and a presence in 123 countries. She continued to work tirelessly for over four decades helping others. The love she had for humanity is rarely rivaled.
Selfish love exists when one person hopes to gain something out of the relationship—even if that something is love. Conversely, unconditional love isn't about power or wealth or prestige. It is about loving the essence of who someone is, loving them simply because they are alive. Unconditional love is something you show through your behavior and actions. It means never expecting anything more than to be shown respect.
Our spiritual work in this lifetime is to expand our capacity of love for others. While very few of us can or will go to the same lengths as Mother Teresa, kabbalists teach that it is our job to open our hearts and share our gifts with the world, to share unconditional love. How do we know if we have reached that level of love? When we care for others so thoroughly that we desire to share with them without expecting anything in return, we are experiencing unconditional love. The fulfillment we find in life and the blessings that come our way are directly related to how deeply we are developing our unconditional love towards other people.
When we notice that our love for others is not growing despite the spiritual connections we make and the acts of kindness that we perform, we are not connecting to the Light of the Creator. This is the time to reevaluate our hearts. Most of us believe that we are loving and sharing people. It is easy to have unconditional love for our family and friends. But the ultimate test of our spiritual growth is whether we can expand that love to perfect strangers, just as Mother Teresa did so fervently. When we begin to truly care for humanity as a whole, we have reached the ultimate level of love. "This is the gift of unconditional love," says Karen Berg, "and the only way we can receive such a gift is when we're capable of giving it. This is the kind of love that the Creator has for us."
This is a continuous question we should ask ourselves—Is my love continually growing for people who have nothing to give me in return? When we are, we open a channel of love that flows into the world. This is how we make the world a better place. Each of us has the potential to open up a channel of love in this world by awakening our love for others and for humanity as a whole.