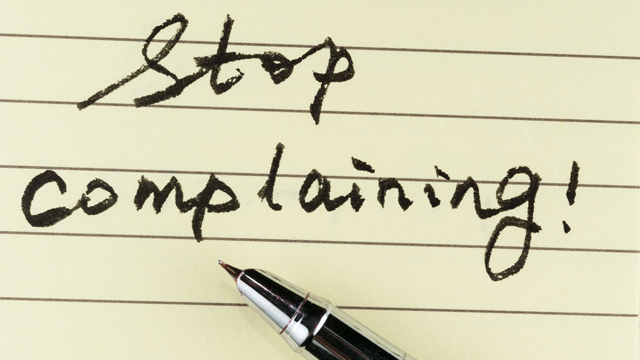 Michael Berg tells a true story about a man who wanted desperately to receive a blessing from his spiritual leader; a teacher this man loved, looked up to, and had learned from for many years. After getting the blessing and leaving, his immediate response was to complain about the teacher he just met, saying that this spiritual leader was wearing a watch that was way too expensive for a spiritual leader to be wearing. That was what he took away from the meeting.
Does this sound familiar to you? Do you look up to someone – a teacher, mentor, spiritual, or even government leader – and find that all of a sudden you begin to find things wrong with them, see many flaws in them? Yes? Then congratulations… you're human!
But, what is it about humanity that in any teacher, guide, or leader, we always find something wrong?
The answer lies in the ego. The ego doesn't want us to change. When the ego sees someone who has the potential to positively influence us, it comes up with stories and complaints, because it knows that if we end up listening to that person, its power over us will be wiped out. And there's nothing scarier to the ego than the thought of its demise. So, the ego starts creating complaints about these people which tell us not to listen to them.
This is especially true when a friend, family member, or significant other comes and tells us something that seems to have a level of criticism to it. The ego says, "Really? That person, with this problem and that problem, is going to advise me!?" This isn't conscious, but we need to remember that the ego is very smart and its first line of defense when it sees that there's somebody coming at it who is going to slightly or greatly influence its power is to come up with complaints.
Why? Because it is a spiritual law: if somebody is going to help you grow, your ego is going to come up with reasons why you shouldn't listen to them.
On the flip side of that, something to be aware of is that if you have somebody - a teacher, guide, mentor, etc. - who you haven't found any reasons yet why you shouldn't listen to, it's because they are not asking you to do anything important; remember that if somebody has the potential to help you change and make a real connection to the Light, the complaints are going to have to come.
The work for us, then, is to fight against the complaints when they come, because the ego is going to create those stories and lies. In fact, just being in the presence of people who can positively help us change makes us start to feel inadequate. The ego's first line of defense is to find what's wrong. And because, for example, that spiritual leader is wearing a nice watch, our ego tells us we don't have to listen to him. But only if we fight through the ego's reasons and complaints do we have the chance for that person to truly assist us in changing.
Knowing this, it becomes easy to see why our spouse is the person that has the ability to anger us more than anyone. They push our buttons like no other! But, we can't grow if our buttons aren't pushed. Our spouses or significant others are like mirrors reflecting back at us changes we need to make in ourselves. But our initial reaction usually is anger. It's much easier to be angry with someone else than to think that we have any responsibility in what is happening. That anger? It's the ego. It would much rather you place blame and be angry at another person than let you change.
The next time you find your mind being inundated with reasons why you shouldn't listen to what a teacher, spiritual guide, friend, or significant other has to say about you, try to stop and take a breath. Realize that all those excuses are coming from the ego. Be aware that if you're having all these doubts about that person, it's a sign that there is an incredible opportunity for growth.