The name of this week is Emor, which means "speak." No wonder planet Mercury (the planet of communication) enters its own sign of Gemini at this time, gathering strength. Our words have a lot of power. The Zohar explains that words can "create" or "destroy" worlds. However, the Zohar also explains that a person will never realize the true influence of his speech until the day he or she leaves the world.
With Mercury's entrance into Gemini, the sign of communication, in the week of Emor, we can increase awareness of how our words create a great part of our future. Take a few moments to look at aspects of your life you'd like to improve and start to bless those areas with positive affirmations.
Also, in connection to the power of words and letters, there is an ancient kabbalistic practice of visualizing the letters of each month in order to draw in the specific energy available at that time. The two letters of this month of Taurus (which begins this week) are Pei-Vav, as shown in the image below.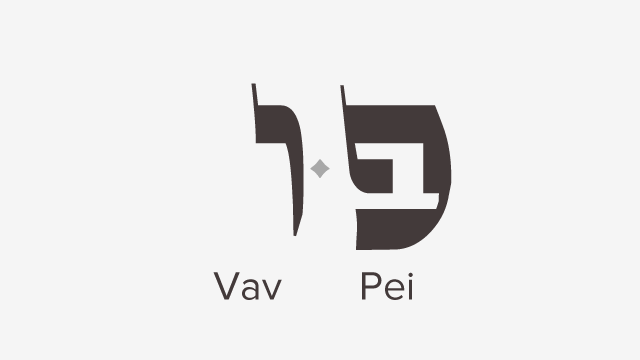 This week, we enter the kabbalistic month of Iyar (Taurus). It is considered a month of healing, as the word Iyar is composed using the initials of the Hebrew phrase, "ani Hashem Rofecha" (I am God who Heals). Indeed, there is a special healing energy present this month. Venus, the planet that rules Taurus, will appear to touch Chiron, which is called the "wounded healer." It is a celestial body that takes 50 years to complete a circuit, and the number 50 is very much connected to healing in Kabbalah. It embodies the rising up after the hurt of falling.
This can emphasize areas where we need healing. It can feel a little bitter. Yet, we need to expose the wounds in order to heal them. But instead of falling into pain, we can pause, breathe in, and use our mouths to share blessings. As we look into the letters of the month, we can ask to use our words to bless and heal ourselves and others.