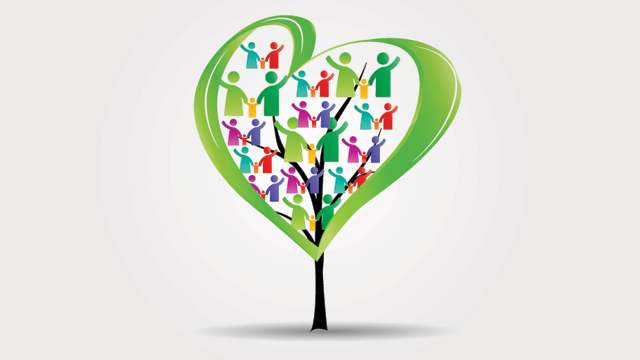 Summer is over. The season of pool parties and barbeques has come to a close. But the kabbalistic calendar offers us one more chance to connect with neighbors – Sukkot. Think of Sukkot, which begins this week, as a spiritual block party, bringing together both your closest loved ones and the new kids in the neighborhood. Sukkot closes out the holiday season, but not without a unique spiritual opportunity to deepen our connection to others and to the Light.
We celebrate this holiday by erecting a sukkah, a temporary shelter that resembles a hut, in honor of the Israelites who wandered the desert for forty years. For seven days and seven nights, we convene under the sukkah to share food, recite blessings, and enjoy good company. But the spiritual significance of Sukkot goes deeper than good food and good company. With Rosh Hashanah and Yom Kippur behind us, we are meant to reconnect to each other at this time, and in doing so, collectively strengthen our spiritual community.
When we share a meal under the sukkah, we open ourselves up to true connection with others. Sukkot is the doorway to expanding our love for our community and for humanity as a whole. The kabbalists teach us to love our neighbors as ourselves. This is not simply a saying to instill peace between strangers. It is the core teaching of Kabbalah that challenges us to grow; according to Michael Berg, "It is the basis of everything that we do of a spiritual nature. The basis of all our connection to the fulfillment and blessings that we hope to bring into our lives is dependent on how much we are developing our internal love towards other people." Sukkot gives us a chance to live out this teaching.
The path to fully embracing the unique and powerful energy of Sukkot is twofold. First, we share and express kindness in everything we do, both in our interactions with individuals and with the world as a whole. The energy that surrounds us during Sukkot is the very essence of kindness and sharing. By living and acting on these qualities we create a connection to the Light that offers kindness and sharing back to us. Like attracts like.
Second, we grow spiritually by both giving to and receiving from our community. This two-way interaction helps us all to thrive and grow. We are meant to engage in this powerful dance with each and every person we encounter. Take note of those who surround you; this is your community. This is the source of your spiritual growth. Our community is where we turn for help. And likewise, they will call upon us in a time of need.
This is the way we are meant to live, in a spiritual community built on the free flowing exchange of give and take. Together, we become stronger, collectively increasing the Light surrounding our community. But the opposite is also true. When we submit to our egos and our selfish desires, we not only rob ourselves of Light and blessings, but we negatively affect everyone in our community, including those who are meant to share with us. When we act selfishly, we diminish the Light available to our entire spiritual community, our friends, family members, and mentors. When one falls, we all fall.
"The entire purpose of our life in this world," says Michael Berg, "the way we can achieve fulfillment and true connection with the Light of the Creator, is when we not only have love towards other people, but also when we are constantly growing that love towards all of humanity." Though the Light of Sukkot is only available one time a year, the blessings we create through kindness and sharing last all year. In truly loving our neighbors as ourselves, we create a stronger spiritual community and a year of blessings to be shared by all.