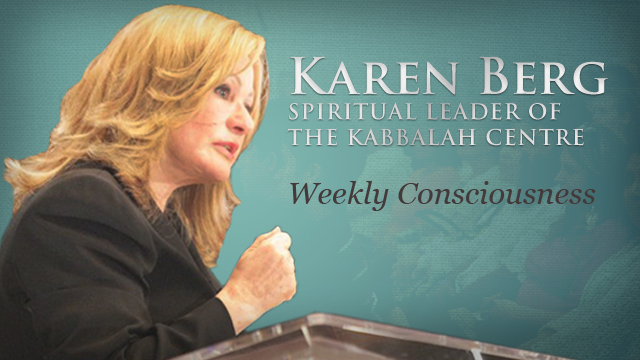 Many times, we may find ourselves looking at other people and saying, "My God, he talks so much!" or "I love him dearly, but he dresses like a clown." The point here is that there are times when we react in less than positive ways towards other people. That's normal because there is negative and positive in every human being, including us. On the level of our souls, there is perfection. But in this physical world, there is no such thing as a person that is completely whole.
One person may enjoy health; another person may enjoy happiness; another, wealth; and yet another, power. But in every single human being, there is a part that holds darkness. It is this darkness that gives us the opportunity to do what the kabbalists call our tikun—the process of correction in which we can overcome that part of us that is negative.
The Creator never promised that we wouldn't have chaos in our lives. There was never a guarantee that we wouldn't lose someone dear to us, never a promise that life would be one big party. That is not why we incarnated as we are. We incarnated so that we could take the chaos, and through our effort, action, and consciousness, transform it into Light.
It is said that if we have faith in our spirituality, then we will come to understand that no matter what darkness is before us, we will have certainty that the darkness and negativity is there for a reason: to help us grow and change. We have the problems we do and we are in the situations we are in because we've done something, whether in this lifetime or a prior lifetime, that put us there.
At some time or another, we've probably all looked at the chaos in our lives and said, "Oh my God, how can this be happening to me? I've done x, y, and z, and this is what I get? None of this works!" And you know what? We're right. But when we allow ourselves to get stuck in these thoughts, then none of it can work. This attitude is like saying, "I learn, I study, I pray, and sometimes I even give to charity. I'm a good person. I've done all of these good things. Why isn't my life smooth?"
There is an African proverb that says: "Smooth seas do not make skillful sailors." We are not on this earth just to "exist" through our short years. Each one of us has been gifted with something, and our time on this planet is to take what we've got and do something with it.
So the question is: What are we doing with the gifts that we have? For example, if a person is a strong athlete, does he take some time to give to kids who also want to improve their skills or who perhaps cannot afford to play? Or take a person who is intelligent. Does this person use her intelligence for the betterment of others and the world? What about a person who has wealth? Does this person use part of that wealth for something larger than himself? We need to ask ourselves these questions because really, according to the kabbalists, nothing in our life is really ours. Even the number of years we have on this earth is time lent to us for a purpose.
Yes, we might have issues with work, in our home, or in our relationships. There are dozens of reasons why our soul chose to come into this life as it did, and we cannot know all of them. But what we can know is that we are not here just to sit on the beach. We are not here just to "do" life and have it pass us by. Quite the contrary: Every day, we should wake up with the acknowledgment that the Light is calling us to a higher purpose.